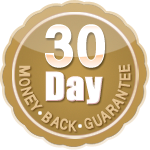 The 30-Day Money-Back Guarantee is Inner Soul Technologies way of ensuring your complete and total satisfaction
with all of our products. *
Once you receive your product(s) if you are not fully satisfied with the product(s) then let us know within 30 calendar days and we will give you a full refund of your purchase total!
We are fully confident that once you have evaluated and used our product(s), you will make it a permanent addition to your life. However if within 30-Days you decide the product is not right for you, you do not 'feel' that the product(s) work, or if for any reason you are not fully satisfied then by simply contacting us, you start the return (or exchange) process. At this time we will promptly reply back with instructions and details on returning the product and returning you your purchase money.
* Manifestation Plate
Due to the experimental nature of the Advanced Quantum Matrix Manifestation Plate we currently do not offer the 30 day money back guarantee on the Advanced Quantum Matrix Manifestation Plates.
* Pendant Chains
The chain that is included with all Pendants is a "starter" chain. It is highly recommended that you use and/or purchase a higher grade chain-necklace. Many people use leather. The chains are included without warranty or guarantee of any kind.
Exchange Products
Get The Exact Product You Want! If you would like to exchange a recently purchased product that is clean & unused, with a different product, then please contact us and let us know which product(s) you would like to exchange for.
Shipping Warranty
All purchases are packaged with extreme care, however postal services can and have damaged products during transit. If your products arrive damaged in any way (bent, dented, broken, water damage, scratched, etc) then please contact us to for a prompt exchange, on our dime!
Have questions?
Please read through our F.A.Q. and Store Policy for general question and answers or you may Contact Customer Care with any questions you may have.
Lost or Broke a Product?
Please contact us for more information.