Description
The Elegant Flow of Prosperity Pendant is a different version of our original "prosperity pendant". A deep warm connection to nature, flows from this pendant. A warm loving and giving flow that wraps around you. Wearing this pendant will assist in bringing your subconscious mind to a place, in which you can achieve a proper mind frame, where you can start to help others reach their prosperity and accept that you are worthy and attract your own prosperity. The only way to receive is to give to others, that which you wish to receive, and do so unconditionally. You must be like a child again. Let this pendant take you back to a place where you see things as a child again.
Let this pendant take you back to a place where you see things as a child again. Let the pendant assist you with the ability to recognize and manifest your prosperity. Know that it is your birth right to be in full abundance at all times. Do not confuse this with unbalanced excess. The world is yours, will you embrace it with open arms? opportunities for greater prosperity are around every corner, you need only open yourself up to others and find out what their passions are and help them achieve their greatness and you shall have yours. Use the pendant to break free of the limitations to your prosperity! Gratitude is the key to happiness. Be grateful for all that you have in life, humility is a golden virtue. Release your fear of scarcity / poverty. This allows for greater abundance to flow to you. May the blessings be!
A human being is composed not only as a biological physical being however, it is also composed of many subtle intricate energy grids that transform, regulate and provide the essential life force energy needed for your own personal existence itself.
Below is a Compilation of the Energetic Energy Grids that this pendant may stimulate. This is strictly on a subtle energetic level within your Energy Body's, 'Energy Grid Meridian System' (Not the Physical Body).
Support for low vitality, grief, hopeless, melancholic, fatigue
Helps to find inner charm for a stronger connection to the Earth.
Support for supplying the most chronic nutritional deficiency.
Support for remedy for intestinal (bowel, colon, intestine) flu symptoms.
Support for Ids toxic or infected bladder or urinary tract (kidney, urethra, ureter).
Support for Part of brain concerned with motion, ids pain mismanagement.
Support in amino acid decarboxylation, ids amino acid regulation dysfunction.
Tonifies qi & yin, boosts immune function & energy, anti tumor effect, benefits MS & lupus.
Support for inherited disturbances caused by fungus, yeast sensitivity – fungus miasm.
Support for stomach lining ulceration's.
Support for infections, circulation, heart, asthma (lung), varicose veins, headaches, blood pressure.
Support for small joint arthritis and deformed joints.
Support for saprophyte bacteria found in animals & humans, causes meningitis and abortion.
Support for the blood, unblocks feelings of rejection blocking health.
Support for blood diseases, for auto immune infections, lupus (skin), toxicity.
Helps Opens the flow of emotion without pain.
Helps with Emotional or physical sensitivity.
Graphic Illustration of Quantum Vortex
The Quantum Energy Power Pendants manifest an inter-dimensional vortex around the human body, allowing the body, mind, emotions and soul to operate with greater harmony.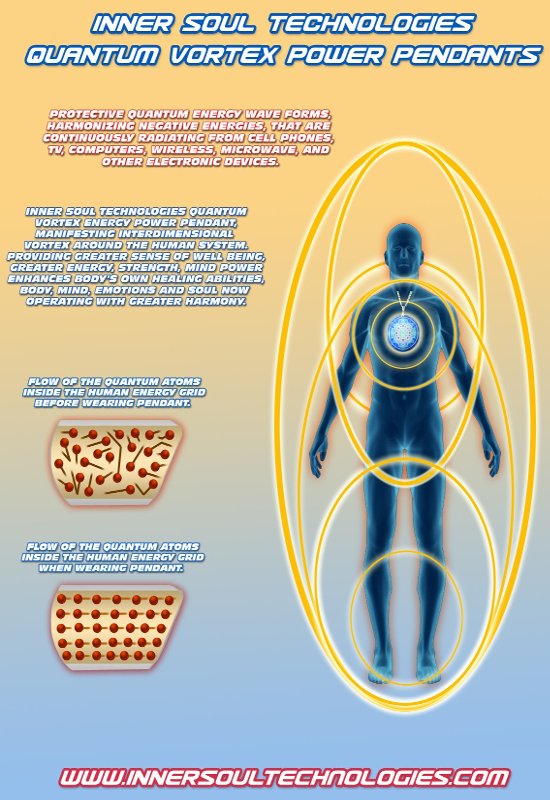 How do the Quantum Vortex Power Pendants Work?
The Pendants establish a direct inter-dimensional link or gateway to the 8th dimension, this energy that comes through, completely envelopes your aura and immediately modifies the flow, intensity and quality of the universal life force that nourishes your entire being. The pendants do not contain any magnets, microchips or miniature batteries. The Pendants are powered by our exclusive "Quantum Nano Vortex Technology". When wearing any of the pendants, the flow of atoms in your body will immediately be re-arranged to resonate or vibrate at a particular energetic field, level of consciousness or dimension from which the particular pendant you are wearing is resonating at via a "Holographic Quantum Vortex".
This will have immediate effects on many subtle energetic levels within your whole being, as well as expanding the amount and quality of pure positive life force that moves through you and becomes a part of your entire reality.
What are the Quantum Vortex Energy Power Pendants?
The Quantum Vortex Energy Power Pendants contain a revolutionary new quantum technology that has a direct effect on the physiological, emotional, mental, and spiritual aspects of a human being. All of the pendants provide measurable protection on a subtle energetic level from harmful cell phone, television, wireless, microwave, radio , scalar, electrical and computer EMF's, which threaten to disrupt our bodies natural biological processes and impact our very own well being.
Each pendant has its own special unique energies, functions and properties that no other pendants in the World have.
What is a Quantum Vortex?
A Worm Hole is a link or gateway between two different points within the same dimension. A Quantum Vortex is a link or gateway between two different dimensions.
---
Triple Layer Elegant Flow of Prosperity
Purchase anytime online (24 Hours a day – 7 Days a week) through trusted and secure PayPal using all major Credit Cards.

Please read the F.A.Q. and Store Policies for general questions and answers.
Legal Disclaimer: Inner Soul Technologies Products are not intended to cure, or treat any illness or condition. You do not eat or consume these Products. Our Products should be used as tools intended to assist you in your own personal journey into self-exploration.
Shipping Details: Shipping, handling, packing and processing is Free with your Purchase – Tracking Number Included!
Made in Canada and ship from Western Canada.
Need Help? Contact Customer Care.