Description
This Stargate represents the gateway to Inner sanctum within the deepest part of your soul, the very ancient, wise and futuristic aspect of yourself! Bringing with it a depth that can bring you to the root of whatever issue you may perceive as a problem in your life. The penetrating Stargate helps align you to the depths of you true self, by bringing a focus and creative energy that allows you to see deeply and mystically into everyday reality which gently exposes all that is not true in your reality. This pendant is extremely powerful and real… This energy is directly linked to the current Ascension process that humanity is going through at this moment. All of humanities DNA is currently being upgraded and activated as we speak. We are turning into super evolved cosmic humans! This will be realized within this life time!
Bio-Feedback Results
A human being is composed not only as a biological physical being however, it is also composed of many subtle intricate energy grids that transform, regulate and provide the essential life force energy needed for your own personal existence itself.
Below is a Compilation of the Energetic Energy Grids that this pendant may stimulate. This is strictly on a subtle energetic level within your Energy Body's, 'Energy Grid Meridian System' (Not the Physical Body).
Inspires you to be brave, clears perception.
Can enhance sensory awareness.
Support for aging or DNA breakdown
Helps release aggression.
Helps balance brain from emotional disturbance.
Helps with acceptance, open mindedness, resistance to change, rigidity, reluctance.
Helps overcome hesitation when dealing with new situations, ideas, accept differences in others.
Helps with insomnia sleeplessness.
Support for emotional release of fear of new ideas.
Support for emotional inability to release past conflicts.
Support for deep understanding.
Support for psychic protection.
Support for past life or regression therapy releasing of emotional blocks.
Support in weight loss and intestine (bowel, colon).
Helps eliminate ego.
Support for strengthening ligaments, muscles and tissues, helps relieve pain.
Support for supplying bone nutrients.
---
Graphic Illustration of Quantum Vortex
The Quantum Energy Power Pendants manifest an inter-dimensional vortex around the human body, allowing the body, mind, emotions and soul to operate with greater harmony.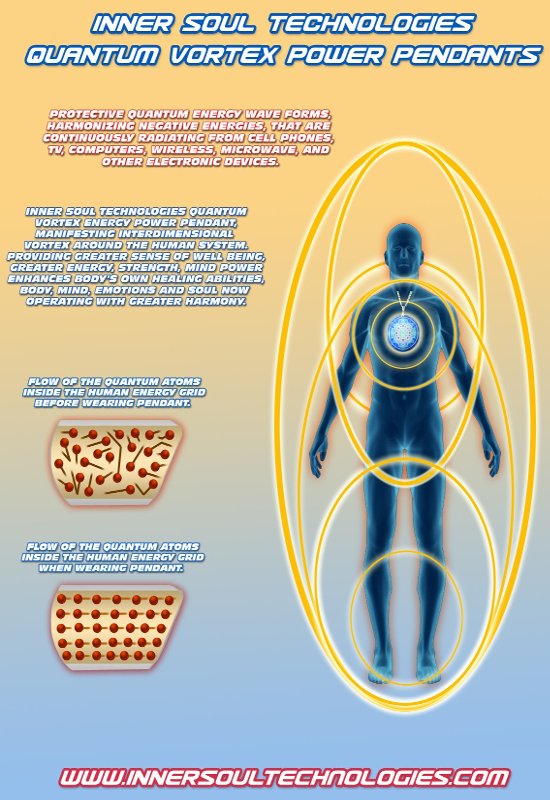 How do the Quantum Vortex Power Pendants Work?
A human being is composed not only as a biological physical being however, it is also composed of many subtle intricate energy grids that transform, regulate and provide the essential life force energy needed for your own personal existence itself! The Pendants establish a direct inter-dimensional link or gateway to the 8th dimension (Infinity). ~ This energy that comes through, completely envelopes your aura and immediately modifies the flow, intensity and quality of the universal life force that nourishes your entire being! ~The pendants do not contain any magnets, microchips, or miniature batteries! ~ The Pendants are powered by our exclusive "Quantum Nano Vortex Holographic Plasma Technology!" ~ When using any of the pendants, the flow of quantum atoms in your body will immediately be re-arranged to resonate, or vibrate at a particular energetic field, in which a dramatic increase in positive levels of pure positive electrical life force, can move freely throughout your entire being! ~ Providing a greater sense of well being, greater energy, strength, mind power, and enhancing ones own natural healing abilities! ~ Thus is accomplished via our " Quantum Nano Holographic  Vortex Technology!" ~ This will have immediate effects on many subtle energetic levels within your whole being, as well as expanding the amount and quality, of pure positive life force! ~ That moves through you, and becomes a part of your entire reality!
What are the Quantum Vortex Energy Power Pendants?
The Quantum Vortex Energy Power Pendants contain a revolutionary new quantum nano plasma holographic vortex technology, that has a direct effect on the physiological, emotional, mental, and spiritual aspects of a human being! ~ All Of The Resonators Provide Measurable Protection From Wireless, (Emf) Electromagnetic, Microwave, And Radio Frequencies & Energies That Can Artificially / Distort / Unbalance Ones Own Bodies Natural Biological, Mental And Emotional Processes! ~ Each Pendant, Specifically Has It's Own Special Unique Functions, Properties & Energies, That No Other Pendant Has! ~ Each Pendant Is Hand Assembled To Ensure Maximum Harmony, Quality & Integrity! ~ All Of The Quantum Pendants Are 100% Water Proof! With This Technology Applied To Our Pendants, Each Pendant Extracts, Focuses, And Amplifies, Pure Electrical Subtle Positive Life Force Energies! ~ Directly Into The User, And Sometimes Even Those Standing Close To The Pendant! ~ Our Pendants Are Literally Comparable To Miniature Radio Stations, Radiating Pure Positive Life Force Energy, And Transmitting To The Immediate Inner & Outer Environment! ~ Powered Indefinitely By Our Exclusive" Quantum Nano Plasma Holographic Vortex Technology!".
---
Ancient Stargate of Deepness Pendant
Purchase anytime online (24 Hours a day - 7 Days a week) through trusted and secure PayPal using all major Credit Cards.

---
Please read the F.A.Q. and Store Policies for general questions and answers.
A tracking number and shipping/handling fees are included with your purchase!
Made in Canada and ship from Western Canada.
Need Help? Contact Customer Care.
---
Legal Disclaimer: Inner Soul Technologies Products are not intended to cure, or treat any illness or condition. You do not eat or consume these Products. Our Products should be used as tools intended to assist you in your own personal journey into self-exploration.
---