Description
The Trinity Guardian Pendant is a gift to mankind from a pure divine cosmic source, that loves mankind dearly. The  "trinity" represents the feminine mother energies (-negative) "not negative as in bad, however as in polarity like the negative side of a battery or magnet" its energies are nurturing, clean and life giving, while the "guardian" represents the masculine father energies (+positive), it silently watches over all of creation providing protection and intelligence. They are bound together in the middle by the source radiator, which spirals the energies into infinity and creates the perfect balance of (+positive and -negative) energies, establishing a field of neutral consciousness. Zero point in other words.
Let this balanced energy assist you in bringing balance to your life in all aspects. Let the magic of synchronicity, perfect timing, perfect beingness become your reality.
Bio-Feedback Results
A human being is composed not only as a biological physical being however, it is also composed of many subtle intricate energy grids that transform, regulate and provide the essential life force energy needed for your own personal existence itself.
Below is a Compilation of the Energetic Energy Grids that this pendant may stimulate. This is strictly on a subtle energetic level within your Energy Body's, 'Energy Grid Meridian System' (Not the Physical Body).
SUPPORT FOR Psychic clarity.
Helps to recognize grace in oneself.
SUPPORT for sexual stimulation of either gender.
SUPPORT FOR Unconditional love, forgiveness.
SUPPORT FOR Parathyroid Chi / endocrine tissue support
SUPPORT FOR GINGIVITIS | Infection, toxic reaction, or inflammation of the tissues around the teeth, or gums.
SUPPORT FOR HYPERTROPHY – Tissue Swelling | Cardiac muscle right ventricle, chronic lung disease – cor pulmonale, mitral stenosis, secondary to left ventricular failure, pulmonary or tricuspid valvular lesions.
SUPPORT FOR HYPERPLASIA – swelling of specialized cells | Endometrium cystic hyperplasia in response to excessive estrogen stim, endometriosis, prostatic hyperplasia from stress, hyper hypothalamic release.
SUPPORT FOR BEAVERICIN | Bioactive peptide, shows emotional problems of sensory perception.
SUPPORT FOR STREPTOCOCCINUM HAEMOLYTICUS | Most dangerous form of strep, causes strep throat, 2mm skin lesions, fever.
SUPPORT FOR Gaiety and lightness.
EMULATES CYANITE | Cyanite, the faithful stone, healing for the throat voice, enhances the creativity of singers, etc. Crystal
SUPPORT FOR | Respiratory tract (lung)
SUPPORT FOR Chronic rheumatism, arthritis, and paralysis, tearing and drawing pains in the muscles.
SUPPORT FOR PSORIASIS
Helps to deal with physically stressed environments.
SUPPORT FOR Emotional protection during vulnerable times, assists the integration process.
SUPPORT FOR COCAINE | Sensitivity, allergy, past or present use, can the reverse picture
SUPPORT FOR the blood and regulates menstruation, promotes urination.
SUPPORT FOR Enriches the ying and nourishes the kidney.
SUPPORT FOR energy disturbance, emotional link to unhealed stress binge in past.
SUPPORT FOR Strong tendons and joints. VITAMIN
SUPPORT FOR Nourishes blood, expels toxic materials, stop itching.
---
Graphic Illustration of Quantum Vortex
The Quantum Energy Power Pendants manifest an inter-dimensional vortex around the human body, allowing the body, mind, emotions and soul to operate with greater harmony.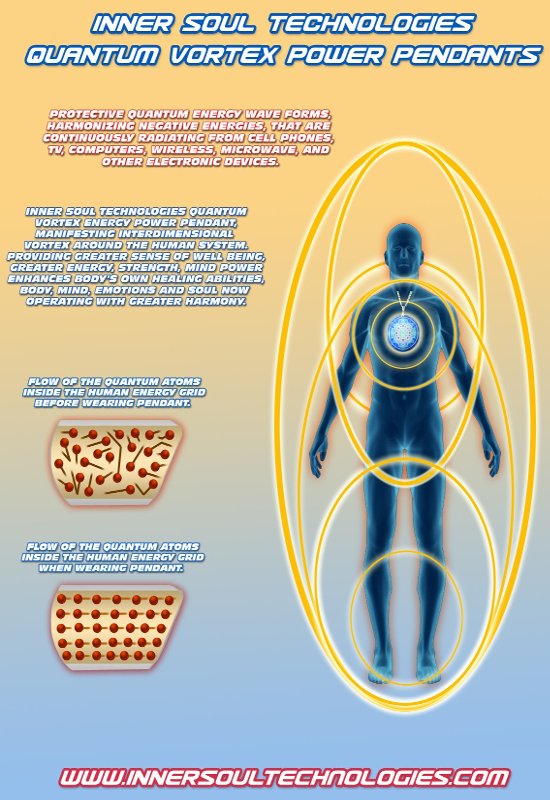 How do the Quantum Vortex Power Pendants Work?
A human being is composed not only as a biological physical being however, it is also composed of many subtle intricate energy grids that transform, regulate and provide the essential life force energy needed for your own personal existence itself! The Pendants establish a direct inter-dimensional link or gateway to the 8th dimension (Infinity). ~ This energy that comes through, completely envelopes your aura and immediately modifies the flow, intensity and quality of the universal life force that nourishes your entire being! ~The pendants do not contain any magnets, microchips, or miniature batteries! ~ The Pendants are powered by our exclusive "Quantum Nano Vortex Holographic Plasma Technology!" ~ When using any of the pendants, the flow of quantum atoms in your body will immediately be re-arranged to resonate, or vibrate at a particular energetic field, in which a dramatic increase in positive levels of pure positive electrical life force, can move freely throughout your entire being! ~ Providing a greater sense of well being, greater energy, strength, mind power, and enhancing ones own natural healing abilities! ~ Thus is accomplished via our " Quantum Nano Holographic  Vortex Technology!" ~ This will have immediate effects on many subtle energetic levels within your whole being, as well as expanding the amount and quality, of pure positive life force! ~ That moves through you, and becomes a part of your entire reality!
What are the Quantum Vortex Energy Power Pendants?
The Quantum Vortex Energy Power Pendants contain a revolutionary new quantum nano plasma holographic vortex technology, that has a direct effect on the physiological, emotional, mental, and spiritual aspects of a human being! ~ All Of The Resonators Provide Measurable Protection From Wireless, (Emf) Electromagnetic, Microwave, And Radio Frequencies & Energies That Can Artificially / Distort / Unbalance Ones Own Bodies Natural Biological, Mental And Emotional Processes! ~ Each Pendant, Specifically Has It's Own Special Unique Functions, Properties & Energies, That No Other Pendant Has! ~ Each Pendant Is Hand Assembled To Ensure Maximum Harmony, Quality & Integrity! ~ All Of The Quantum Pendants Are 100% Water Proof! With This Technology Applied To Our Pendants, Each Pendant Extracts, Focuses, And Amplifies, Pure Electrical Subtle Positive Life Force Energies! ~ Directly Into The User, And Sometimes Even Those Standing Close To The Pendant! ~ Our Pendants Are Literally Comparable To Miniature Radio Stations, Radiating Pure Positive Life Force Energy, And Transmitting To The Immediate Inner & Outer Environment! ~ Powered Indefinitely By Our Exclusive" Quantum Nano Plasma Holographic Vortex Technology!".
---
Purchase anytime online (24 Hours a day - 7 Days a week) through trusted and secure PayPal using all major Credit Cards.

---
Please read the F.A.Q. and Store Policies for general questions and answers.
A tracking number and shipping/handling fees are included with your purchase!
Made in Canada and ship from Western Canada.
Need Help? Contact Customer Care.
---
Legal Disclaimer: Inner Soul Technologies Products are not intended to cure, or treat any illness or condition. You do not eat or consume these Products. Our Products should be used as tools intended to assist you in your own personal journey into self-exploration.
---